2021 Preview: Stakeholders ruminate on COVID's future impact on Canada's construction sector
via Daily Commercial News by ConstructConnect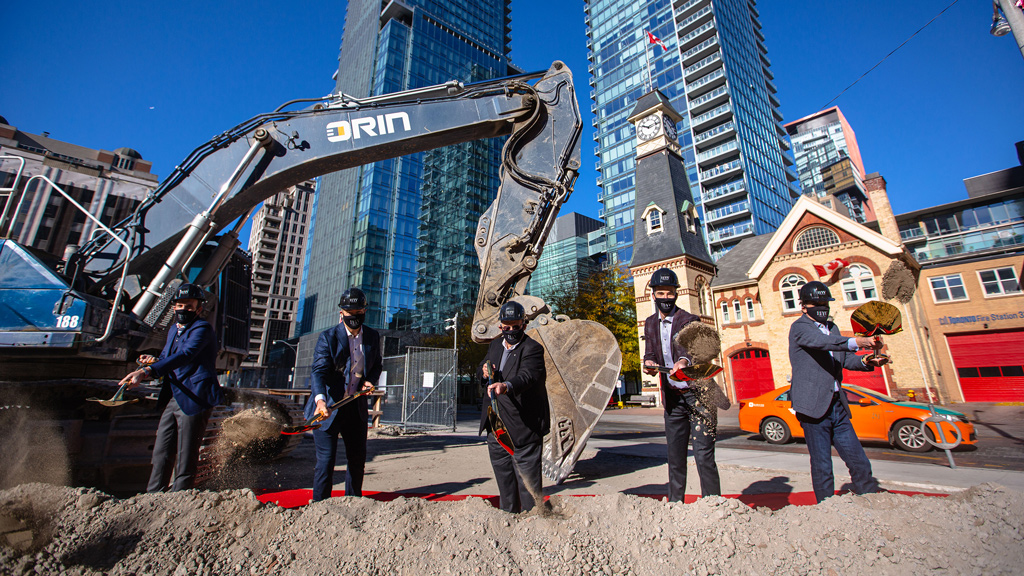 RIOCAN — Rio-Can Real Estate Investment Trust, Metropia and Capital Developments held a groundbreaking ceremony in November for their multi-use project at 11 Yorkville in Toronto. Pictured, executives from the developers on site in November wearing masks as part of the "new normal."
The coronavirus pandemic dramatically transformed the Canadian construction landscape in 2020 with more disruption clearly to come in the new year. The Daily Commercial News and Journal of Commerce invited stakeholders to assess COVID's continuing impacts for 2021 through the lenses of leadership, health and safety, the economy and projects, and innovation.
Respondents were Ian Cunningham, president, Council of Ontario Construction Associations; Darrel Reid and Karen Renkema, with the Progressive Contractors Association of Canada; Chris Atchison, president, BC Construction Association; Giovanni Cautillo, president, Ontario General Contractors Association; Tania Johnston and Ken Lancastle, CEO and COO respectively of the Mechanical Contractors Association of Canada; Mary Van Buren, president, Canadian Construction Association; and Sean Strickland, executive director, Canada's Building Trades Unions.
HEALTH AND SAFETY
Strickland: I can't say enough about how proud I am to be part of an industry that was deemed essential across Canada in the spring and of our ability to improve workers' health and safety with contractors and unions working together. And that's going to have to carry over.
The news for a vaccine is very encouraging, but we're still going to have to maintain new health and safety worksite measures for much of 2021. I'm hopeful these improved measures can roll over post-pandemic.
The fact is that still in 2020 the sanitation at washroom facilities at most jobsites is absolutely subpar. There's no reason why we can't provide much more reasonable facilities for construction workers.
Cunningham: Since the onset of the pandemic, the construction industry has done a remarkable job of containing the spread of the coronavirus on worksites.
But even with a six-week partial shutdown in the ICI sector and with five per cent fewer people at work in the industry, injuries and fatalities in 2020 pretty much tracked 2019 until the end of November. Then December, with several deaths, was a disaster.
So my overall assessment of occupational health and safety in Ontario is that it has plateaued; despite all the initiatives that were supposed to improve the performance of the system, we have been unable to move the needle.
Maybe we need big transformational change. For starters, what about making the chief prevention officer an officer