2021 Preview: Stakeholders ruminate on COVID's future impact on Canada's construction sector
via Daily Commercial News by ConstructConnect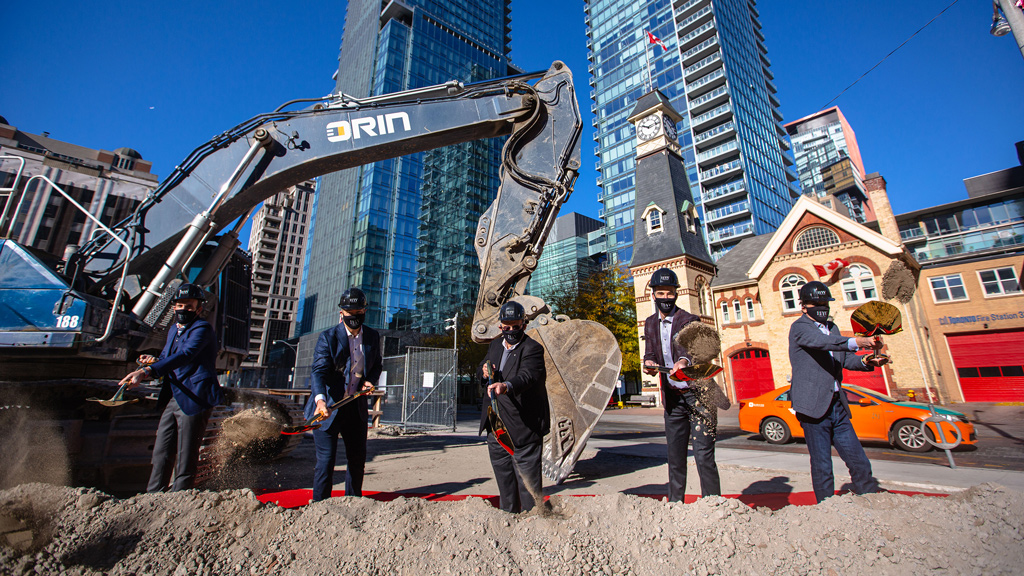 RIOCAN — Rio-Can Real Estate Investment Trust, Metropia and Capital Developments held a groundbreaking ceremony in November for their multi-use project at 11 Yorkville in Toronto. Pictured, executives from the developers on site in November wearing masks as part of the "new normal."
The coronavirus pandemic dramatically transformed the Canadian construction landscape in 2020 with more disruption clearly to come in the new year. The Daily Commercial News and Journal of Commerce invited stakeholders to assess COVID's continuing impacts for 2021 through the lenses of leadership, health and safety, the economy and projects, and innovation.
Respondents were Ian Cunningham, president, Council of Ontario Construction Associations; Darrel Reid and Karen Renkema, with the Progressive Contractors Association of Canada; Chris Atchison, president, BC Construction Association; Giovanni Cautillo, president, Ontario General Contractors Association; Tania Johnston and Ken Lancastle, CEO and COO respectively of the Mechanical Contractors Association of Canada; Mary Van Buren, president, Canadian Construction Association; and Sean Strickland, executive director, Canada's Building Trades Unions.
HEALTH AND SAFETY
Strickland: I can't say enough about how proud I am to be part of an industry that was deemed essential across Canada in the spring and of our ability to improve workers' health and safety with contractors and unions working together. And that's going to have to carry over.
The news for a vaccine is very encouraging, but we're still going to have to maintain new health and safety worksite measures for much of 2021. I'm hopeful these improved measures can roll over post-pandemic.
The fact is that still in 2020 the sanitation at washroom facilities at most jobsites is absolutely subpar. There's no reason why we can't provide much more reasonable facilities for construction workers.
Cunningham: Since the onset of the pandemic, the construction industry has done a remarkable job of containing the spread of the coronavirus on worksites.
But even with a six-week partial shutdown in the ICI sector and with five per cent fewer people at work in the industry, injuries and fatalities in 2020 pretty much tracked 2019 until the end of November. Then December, with several deaths, was a disaster.
So my overall assessment of occupational health and safety in Ontario is that it has plateaued; despite all the initiatives that were supposed to improve the performance of the system, we have been unable to move the needle.
Maybe we need big transformational change. For starters, what about making the chief prevention officer an officer of the provincial legislature, akin to the auditor general, who reports to the legislature and holds the government accountable for the investments made in the province's occupational health and safety system, instead of being a minor bureaucrat buried in the MLTSD (Ministry of Labour, Training and Skills Development)?
Van Buren: The industry is justifiably proud of its track record in keeping workers and the community safe, while infrastructure projects continued. This was due to strong industry collaboration ensuring sites were safe for workers, their families and communities. As one business leader said, "Safety is not proprietary." And it meant absorbing all the direct costs and productivity losses.
Canada's construction industry has a culture of health and safety and we will continue to raise the bar.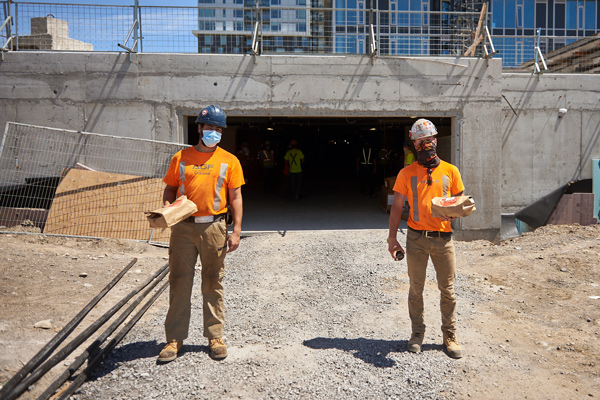 THE ECONOMY AND PROJECTS
Atchison: As the number-one employer in B.C.'s goods sector, contributing over $100 billion to GDP annually, ICI construction always plays a big role in the economy. COVID-19 brought that into the forefront because we were deemed essential. We kept working when many sectors had to scale back. It's the economics that make our industry essential, sure, but it's also health and safety related.
Being visible in this way will help us attract new talent to our industry — people are looking at us differently. It also increases the urgency for the B.C. government to move forward on prompt payment legislation, because while our skilled tradespeople are out there working during the pandemic, they also need to be sure they're going to be paid for the work they do.
Cautillo: Our economy has been significantly affected by this global pandemic, to the point where some businesses, including those in construction, may not survive. All aspects of the construction supply chain have been adversely affected and all the components continue to adapt to the new normal regarding compliance with new delivery requirements, work requirements, sanitation requirements, and the ever-changing landscape.
Construction has always been a core driver of the economy and it can be relied upon to continue to stimulate the economy through keeping workers employed, projects progressing and investment in Ontario viable.
Strickland: I think it's important to recognize that while we've come back somewhat from the spring, employment in the construction industry across Canada is still approximately nine per cent below what it was pre-pandemic. That situation is going to amplify next year. There is a lack of confidence in various sectors, and it's also a concern to contractors, architects and consulting engineers in the industry.
It's important that government continues to proceed with infrastructure programs that are already in place…and those funds need to be expedited so they can get through the system more quickly. Once we get that happening we're going to need to look at increased stimulants in the federal budget.
Van Buren: The Government of Canada has done many things right to support industries affected by COVID-19. Unfortunately, it continues to sit on billions of dollars of announced infrastructure investment. With the private sector faltering, the government needs to step up, be flexible and get projects moving urgently. Throwing the construction industry into a recession in Q3 2021 due to red tape in procurement is not only avoidable, but would be a missed opportunity — for apprentices, for workers, for employers.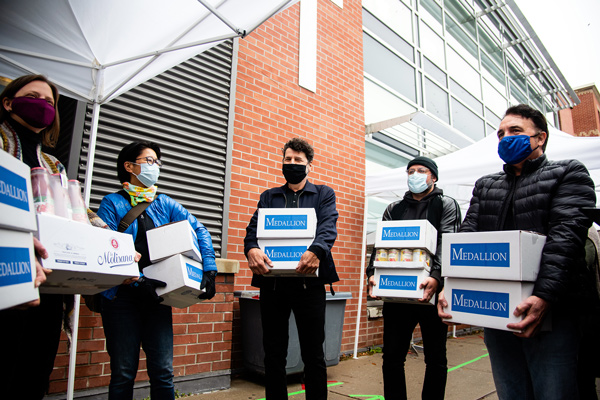 LEADERSHIP
Lancastle: The pandemic has demonstrated the evolution of leadership from the traditional top-down approach to a more collaborative leadership model; one that requires communication, trust and respect between all parties. In the context of COVID-19, we saw how quickly information could change and how this change required continued dialogue with all stakeholders to determine the most appropriate action. Ultimately, this collaborative approach encouraged "buy-in."
As we move into 2021, we are hopeful this collaboration and communication will continue.
Reid/Renkema: While the pandemic began as a challenge for every sector, it became an opportunity for PCA to demonstrate our leadership and commitment both to the health and safety of workers and their families, and to the communities and provinces where they live and work. PCA's strong relationship with its member companies allowed for the rapid exchange of information and best practices to ensure the highest health and safety standards at company work sites. Our collaborative approach with CLAC allowed us to work quickly with our member companies throughout the pandemic.
Atchison: The construction industry is competitive — often to a fault. But when COVID-19 arrived everyone came together to share what they were learning, rallying to adapt and lead and keep each other safe and productive. Big contractors with more resources shared detailed COVID safety protocols freely. I think the level of collaboration will continue. It's full steam ahead to a more constructive site culture for everyone.
INNOVATION
Johnston: We have long maintained that MCA Canada members are incredibly innovative. During the pandemic, whether it was new health and safety guidelines, changing project requirements or productivity challenges, MCA Canada members demonstrated their ability to innovate and find solutions to the fluid situation brought on by the pandemic. At the same time, there was a willingness to look beyond traditional ways of doing business to new and innovative technologies to help address the challenges being faced. If the industry can see sustained public and private sector investment, this innovation should increase as the industry seeks to provide more efficiency and increased value for all stakeholders.
The latest information on industry updates, CCA events, courses, professional development and special offers from the CCA.