With a massive worker deficit around the corner, the Alberta construction sector is implementing a new way to connect workers with employers.
The province announced it will spend $3.2 million on a 33-month pilot project targeting the underemployed and the unemployed in the greater Edmonton area. The project will be a partnership with the Alberta Construction Association (ACA), End Poverty Edmonton and the Edmonton Mennonite Centre for Newcomers. Funding will support wage top-ups, preparatory training and personal protective equipment/tool costs for apprentices.
Under the Trade Pathways program, apprentices will have the opportunity to train under several ACA member companies, developing comprehensive, job-ready skills and experience.
Ken Gibson, executive director of ACA, explained conventional programs have an agency target folks in need and put them through a curriculum. They then try to market participants to employers.
"What we did was turn this all on its head," he said. "We have contractors take individuals on and find them the training they think they need. We work in teams of contractors to ensure a well-rounded training experience."
Teams have agreed to share a common trainee personnel file and training record.
"What this does is it avoids the situation where someone doesn't have a project quite ready for a person's skill set," said Gibson. "This model allows for continuity and broader training experiences. And frankly, personality clashes happen, and we don't want to see someone's career cut short because something isn't working out with a particular company."
Gibson credited Kent Dietrich, a retired workforce manager at PCL, for first championing the concept. Each trainee will spend up to 90 days in the program learning about carpentry, glazing or commercial flat roofing with the ultimate goal of getting hired by one of the participating companies at the end.
"We wanted to start with organizations and partners we know well and who were comfortable with the concept, but our hope is that we can expand the project beyond those three trades and beyond the greater Edmonton region," said Gibson.
He added while the program focuses on "apprenticeable" trades, he would like to see it include non-trade careers like installers and technicians. He said these roles are a valuable component of the Alberta labour market.
Gibson said the ideal candidate doesn't have to have prior construction experience. The most important things are a good attitude, willingness to work and the ability to do physical work.
"Our biggest challenge is finding people," said Gibson. "Right now there's more work and job openings than there are people coming forward. As the program becomes better known, hopefully that will change. It is a really promising model and we are very excited. Hopefully this will reach folks who wouldn't normally be exposed to construction employers."
The pilot project is getting underway just in time. The most recent BuildForce Canada outlook for Alberta shows construction will likely be short as many as 4,700 positions as early as 2027.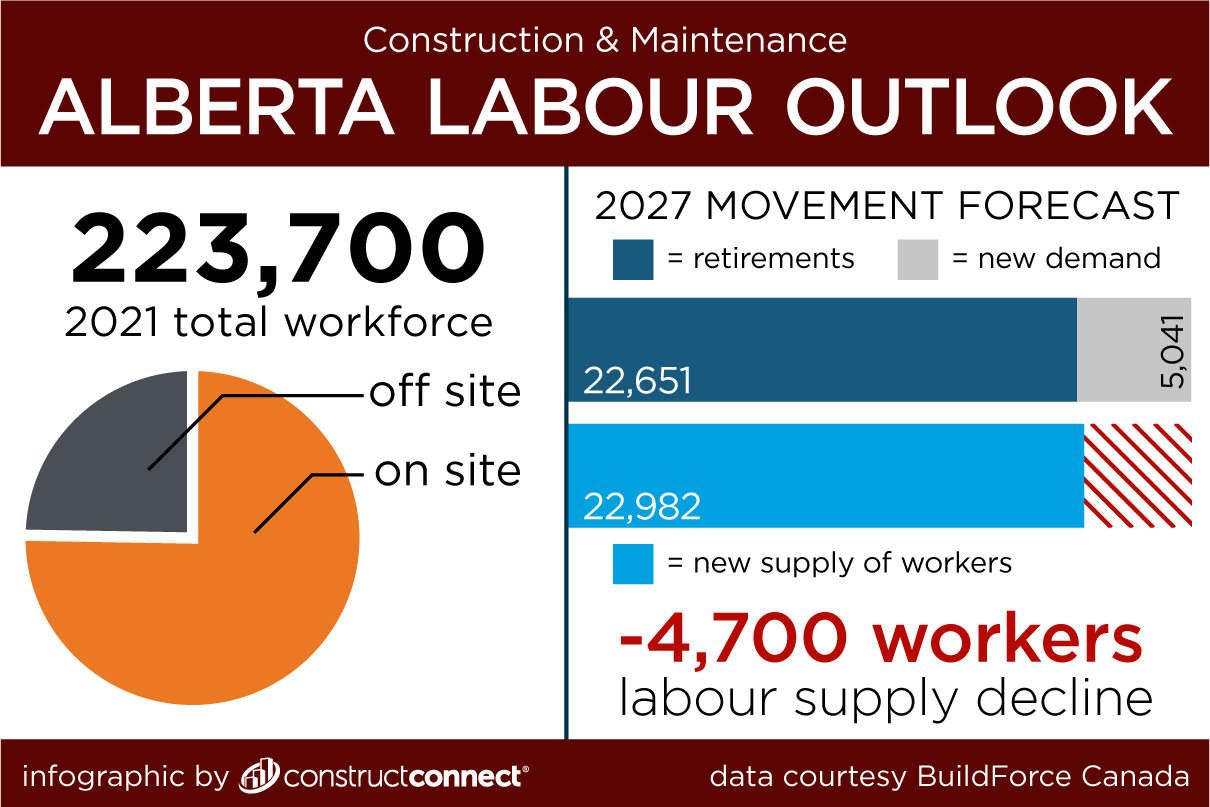 Gibson noted developing a professional tradesperson typically takes four years.
"Those shortages are literally around the corner for us," he said. "We need to alert our colleagues and government that this is an urgent need and must learn how to better connect to communities, find individuals and share best practices."
Gibson explained the labour shortage impacts far more than just the construction sector. Without skilled workers, the province can't build the roads, hospitals, bridges and other structures that residents need for quality of life and economic prosperity.
"I am absolutely humbled by the desire of our industry and member firms to reach out and work with folks who might have barriers to employment and come from less favourable circumstances," said Gibson, who added that nine member firms are participating. "That is the norm for our membership, not the exception."
He encouraged anyone who is struggling to find work or who knows someone struggling to find work in the Edmonton area to get in touch with the ACA so they can participate in the program.