Calgary city council is considering adding up to eight new communities at the city's edge.While the city has said it is expecting upwards of 90,000 people to move to Calgary over the next four years, administration has said it can accommodate that growth with no new community approvals.Approval for new developments usually comes during budget discussions in November, since new communities bring added costs to the city. But in July, a majority of councillors asked administration to hasten the approval of five new communities that could begin work without any immediate capital costs to the city.

They include Keystone Hills Lewiston, Belvedere West, Ricardo Ranch Seton Ridge, Ricardo Ranch Logan Landing, and Ricardo Ranch Nostalgia.

Three other communities could be approved as early as November, when budget discussions are held.

Councillors in favour of the new communities said they wanted to give developers time to get shovels in the ground this year, rather than waiting until November when it could be too late to begin construction.

Critics have said Calgary needs to stop building out and start building within its existing boundaries.

Ryan Andersen, lead organizer of the Calgary Alliance for the Common Good, said continually building outward has climate implications, and the city has already declared a climate emergency.

He also said suburban sprawl comes with financial costs.

"It stretches our police services and stretches our fire services, and there's no actual tax revenue until those communities are filled up," Andersen said.

He said with that added financial pressure, the city could be forced to cut services that people depend on, in order to provide more basics at the edges of the city.

"We have more than enough communities that already have enough spaces to build housing for the next 20 years. So why are we creating these budgetary pressures for, you know, on services but also for all Calgarians?" he asked.

The city confirmed it has approved land supply to last for the next 15 to 21 years as of April this year. That includes 56,896 single/semi units and 59,417 multi units. Those units will have the capacity to accommodate 318,474 people.

Those in the construction industry, however, say there are good reasons to keep building.

Bill Black, president and CEO of the Calgary Construction Association, said the ongoing construction creates many spinoffs.

"We need more people to be moving here, and we also need the economic activity that comes from building," he said. "It's not all residential, there's commercial buildings and strip malls and retail that goes along with these."

Black said the market will continue to drive where people want to live. He believes developers in many new communities are doing a good job of providing what the market demands, and doing so in a thoughtful way.

"If you're going to increase the number of communities, and if you increase them intelligently, that's not sprawl," said Black. "That's intelligent growth that's creating real communities and not just building an ocean of homes."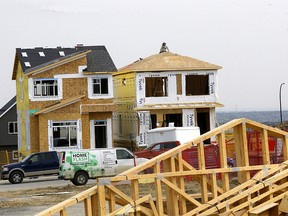 Brian Hahn, CEO of BILD Calgary, said housing affordability has provided Calgary with an edge over other major cities, and it's important to keep a supply of housing if the city wants to maintain affordability.
He also said when it comes to the climate cost of sprawl, new builds offset that with efficiency.
"As you might imagine, the energy efficiency of a new home continues to improve, it typically is . . . better than a number of older homes," he said.
Hahn said developers are continuing to see strong demand in Calgary.
"If Calgary were to choose not to want to grow that way, there may be other communities that do, and purchasers may decide that that's the fit for them," said Hahn.