The City of Calgary and Calgary Flames ownership are going back to the table in hopes of crafting a new arena deal, but this time the city has drafted some help for the negotiations.

The two parties have agreed to restart formal discussions on a new arena, officials announced at a meeting of city council's event centre committee on Wednesday.

The previous deal between the city and the Calgary Sports and Entertainment Corp. fell apart late last year over cost overages, just weeks before construction was set to begin on the $650-million project.

This city is doing things differently this time by hiring consulting firm CAA ICON to represent Calgary at the negotiating table.

The American-based firm has more than 20 years of experience in "planning, activating, designing, constructing and commissioning projects" for sports teams and cities around the world, according to the firm's website.

Michael Thompson, general manager of infrastructure services for the city, said CAA ICON was retained as a "deal structure adviser" on the advice of third-party mediators who were brought on in May to help restart the talks.

Those third-party mediators are now stepping away, although the city may continue to call on them for expertise as the talks progress, according to event centre committee chair Coun. Sonya Sharp.

She called the new talks a "fresh start," and said having those consultants in the city's corner means the negotiation process will be "very different" than the previous time.

"This is their subject matter," said Sharp. "They're experts in this field and the City of Calgary went through the process to make sure that we have the right people in place for this next phase."

Sharp said city administration and CAA ICON will work together on the talks with CSEC, and then report back to the event centre committee. The committee will in turn report to council on important decisions that need to be made.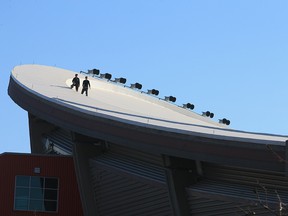 She said a fresh start means pretty much everything is back on the table, despite the city and CSEC previously coming close to a deal that included design plans for an event centre.
"Between CSEC, City of Calgary and CAA ICON, they will have to decide what can they can learn from, what they can reuse, and what we can use to bring forward into further formal discussions."
When asked if a new location could be possible, Sharp said the city is focused on building a new event centre "in the downtown."
In a news release, CSEC president and CEO John Bean said the agreement is a chance to move forward.
"All parties share a collective desire to see a new event centre constructed in Calgary. We look forward to discussions with the City to see if we can find an acceptable path forward," Bean said.
There's no timeline for the parties to reach a formal agreement on a new event centre, though the city said it will "take the time necessary to reach an agreement that will meet the City and CSEC's needs."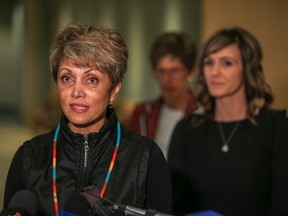 Mayor Jyoti Gondek said she thinks Calgarians will be happy to learn arena talks are again moving forward.
"The committee and council had asked for patience as we built a relationship and figured out whether this was something that we could revisit, and it turns out that we can," she said.
News of talks restarting was met with optimism by Brad Parry, president of Calgary Economic Development, who said the discussions could still take some time.
"I think it's a great step, the fact that we're speaking and having those formal discussions now," said Parry. "We're going to get it right, we're going to keep doing this, but we're not going to rush it."
The collapse of the previous deal was not without costs. Last month, a city briefing revealed the city incurred $16.8 million in costs related to closing the failed event centre deal.
The event centre was previously promoted as a centrepiece of the city's planned Culture + Entertainment District, which also includes the Stampede grounds, the BMO Centre convention complex and parts of 17th Avenue and the East Village.
Coun. Courtney Walcott, who sits on the event centre committee, said he's hopeful a new event centre will eventually become a cornerstone in the city's infrastructure as a place to grow Calgary's culture.
"That's why I'm so excited to be a part of this work because we know the significance of honouring our culture, and we know the significance of investing in ourselves," said Walcott. "The future of our city, it's changing because . . . we're inviting so many more people from around the world to be a part of this culture."